Memorial service honours Cumbria flood death officer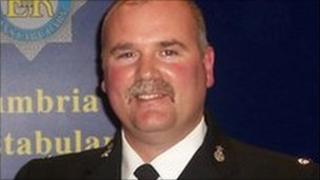 A Cumbrian police officer who was killed in devastating floods was among those honoured at a special ceremony in Northern Ireland.
Home Secretary Teresa May joined hundreds of people at a memorial service to honour police officers killed in the line of duty.
Pc Bill Barker, 44, was swept from Northside Bridge, Workington, when it collapsed in November last year.
The National Police Memorial Day took place in Belfast on Sunday.
Pc Barker, of Egremont, was directing motorists to safety when he died.
The traffic officer's body was found on a beach in Allonby several hours after he disappeared from the road bridge over the River Derwent.
He had served with Cumbria Constabulary for 25 years and left four children.
Northern Ireland Justice Minister David Ford told the gathering at Waterfront Hall: "It is an immense privilege to attend this service and an honour to be the first locally-elected Justice Minister to participate in this dignified and sensitive occasion.
"Police officers regularly put their lives on the line serving all sections of the community and we should never take what they do for granted.
"I want to express my sincere gratitude to all officers who give so much to the community on a daily basis and today, in particular, to the officers who have made the ultimate sacrifice.
"My thoughts are with the families of those who mourn their loved ones. Society must never be allowed to forget their selfless service."
The National Police Memorial Day was founded by Sgt Joe Holness in 2004 after his colleague at Kent Police was killed while carrying out road safety checks.
It has created a national Roll of Honour for fallen police officers.
Paul McKeever, chairman of the Police Federation of England and Wales, which represents rank-and-file officers, said: "This day is a way for the nation to recognise the best of all human qualities: selfless and devoted courage.
"The example and valour of those officers who died on duty acts as an inspiration to us all."