Cumbria river water disappears down hole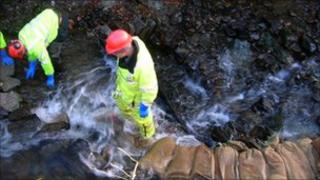 Environment Agency staff have been attempting to repair a "hole" in a river bed in south Cumbria.
Water from the River Gowan, near Staveley, is draining into an old underground channel which used to serve a mill further down stream.
This has left the bed dry for hundreds of metres, and there are fears that local wildlife could be affected.
Sandbags have been placed upstream to try to divert the flow past the collapsed section.
Andy Knipe, from the Environment Agency, said: "A length of pipe is now being installed to replace the section of the stone culvert which has collapsed and these works will prevent the river flowing down the hole.
"We have also been working hard to monitor the effect this may have had on local wildlife, including the native white-clawed crayfish which are a protected species and are found in the area."