New ranking for special constables in Cumbria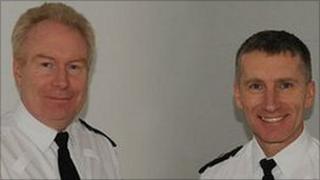 Special constables in Cumbria are to have the same ranking structure as the county's regular police force.
The volunteers, who have the same power of arrest as regular officers, will now report to a newly-created Special Chief Inspector.
The move is aimed at helping them integrate more closely with their full-time colleagues.
Cumbria Police is urging anyone who is interested in becoming a special constable to contact the force.
Paul Cretney, who works as a senior project manager at BT, has been appointed as north Cumbria's first Special Chief Inspector.
He said: "Volunteering has always been important to me.
"In my new role it is my intention to promote the value of the specials as well as seeking to develop officers to achieve a higher level of skill and, therefore, be able to contribute more to the constabulary and to the communities that we serve."
Ch Supt Don Spiller said: "Special constables provide a valuable service to the communities of north Cumbria by supporting the work of police and by tackling policing priorities across the county."