Smardale nature reserve trees pruned to save path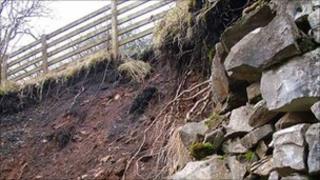 Trees have been felled at a nature reserve to try to prevent the further crumbling of a wall on to a path.
Two years ago a tree was blown over near a former rail line at Smardale Gill National Nature Reserve, causing part of a dry wall to collapse.
Cumbria Wildlife Trust secured funding to cut back trees and move the pathway slightly on to firmer foundations.
The trust now plans to improve wheelchair access at the reserve near Kirkby Stephen.
Andrew Walter, nature reserves officer for Smardale Gill, said: "By coppicing the trees the roots will not shake the wall to such an extent.
"The wall is, however, in a very poor state of repair and will inevitably fall down over time, but now we hope in a less dramatic and safer manner."