Cumbria Atlantic charity rowers reach Antigua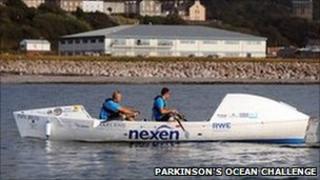 Two rowers from Cumbria who were given food drops in the mid-Atlantic have reached their destination in Antigua.
Brothers Chris and Matthew Cleghorn set out on their challenge to row across the Atlantic to raise money for Parkinson's disease research.
Falmouth Coastguard coordinated two restocking operations with vessels meeting up with the pair mid-ocean.
The first was when a wave damaged supplies and the second when rough seas delayed them.
In the first operation at the beginning of February, the coastguard arranged for a yacht to meet the pair.
But shortly afterwards their supplies were running low when rough weather delayed their progress and the coastguard arranged a tug to meet them with more supplies.
The former Royal Marines' challenge was to row their boat Papa Delta from the Canary Islands to Antigua.
The brothers kept a blog throughout their crossing and their entry for 9 March announced they had made it.
They said they covered more than 3,100 miles (4,989km) in 64 days and 13 hours.
The blog said Mat proposed to his girlfriend when they arrived.