Girl, 14, avoided Derrick Bird's gunshot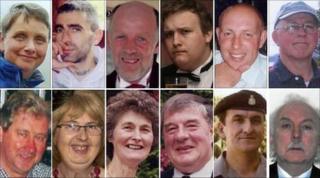 A schoolgirl has told an inquest how she ducked to the ground to avoid a blast from the shotgun of Derrick Bird during his rampage across Cumbria.
Ashleigh Glaister, who was 14 at the time, had been called over by Bird to his taxi.
When the teenager reached his open passenger side window, she noticed the gun in the vehicle.
Bird, a 52-year-old taxi driver, killed 12 people and injured 11 before shooting himself on 2 June 2010.
Miss Glaister said: "My first instinct was to put my hands up to my ears and then to put my head down and duck."
Bird's shot flew over her as she crouched down beside his car, the inquest was told.
Second shot
She ran off in tears, and he shot again.
Ashleigh took shelter at her sister Rachel's home in Thornhill, near Egremont, Cumbria, as Bird left.
Minutes before Bird had sped out of Whitehaven towards St Bees and to Hagget End, Orgill, where he shot Susan Hughes, 57, in the chest and head.
Eyewitness David Bell saw the taxi driver with his arms around her neck and shoulder.
He said: "They were both standing up at that time. It looked as if all his weight was on the lady, as if she was struggling to hold him up."
As they drove further his seven-year-old son said: "Dad, are they acting because that man has got a gun and the lady is on the floor?"
But Mr Bell's view was obstructed and he did not see a gun or hear anything as they headed off.
Later, Bird targeted unemployed joiner Leslie Hunter, 59. He survived but still has 21 pellets in his back.
Mr Hunter said he pulled up to him in the street and said "can I see you a minute, mate?".
"As I turned round he was sitting in the driver's seat with a smirk on his face and I saw a shotgun on the passenger seat across his legs," he said.
"I saw the gun and he moved. That is when he caught the side of my face."
Mr Hunter crouched down beside a parked car and he was shot again in the back.
CCTV footage played to the jury showed Bird's silver Citroen Picasso turn on to the Thornhill housing estate.
The pictures from a stationary bus then pick up Bird pulling out of the estate after firing at Ashleigh and heading back on to the A595 away from Egremont.
'Stay back'
Earlier the inquest heard that a Cumbrian paramedic was told to turn away from Whitehaven on 2 June last year, for his own safety.
Taxi driver Darren Rewcastle had just been shot dead when paramedic Kevin Wright was called to the scene.
But when he arrived he was told "stay well back". He later helped a man who needed to have his hand amputated.
Mr Wright's statement said he had just arrived in a fast-response car when his control base rang to tell him to leave.
But as he was driving away, he was flagged down by two police officers in Coach Road, where taxi driver Terry Kennedy had just been shot.
Mr Wright treated Mr Kennedy, who had to have his right hand amputated after putting it up to his face in self-defence.
Mr Wright tried to call an ambulance, but was told one could not be sent because it was not "safe".
An ambulance eventually arrived 30 minutes later and Mr Wright went back to West Cumberland Hospital after being told there was a risk Bird could return to the area.