Woman ran in terror from gunman Derrick Bird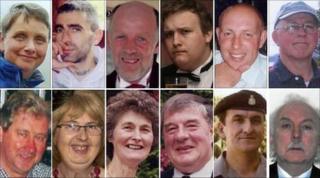 The wife of a diving club colleague of gunman Derrick Bird has told an inquest how she ran away in terror as he reversed at speed towards her.
Moments before, Bird had arrived at the house of Jason Carey, a member of a diving club where Bird, also a member, had fallen out with the committee.
Bird sounded his taxi horn but Mr Carey did not answer.
Bird, a 52-year-old taxi driver, killed 12 people and injured 11 before shooting himself on 2 June 2010.
By the time Deborah Carey got to the door, Bird was already driving off on the morning of 2 June last year.
He reached the bottom of Mr Carey's drive in Wilton and then almost immediately shot Jennifer Jackson, 68, once in the chest with his shotgun and twice in the head with his .22 rifle.
He then came across Mrs Jackson's husband, James, 67, and shot him in the forehead, killing him instantly.
Giving evidence at the inquests into the deaths Mrs Carey said she saw the taxi pull away from her house and heard a bang.
She said she saw Mr Jackson speaking to a neighbour.
She said: "There was a brown horse in the field and I heard another bang, it was a much louder bang. I knew that it had come from a gun and the horse bolted."
Mrs Carey said her attention was then caught by the taxi.
"The taxi came back down the hill really fast. I ran away, I ran back to our drive and to the house because I thought he was coming back for me."
'Bad Boys Club'
Giving evidence at the inquest, Mr Carey said he had known Bird for 12 years since he had joined the diving club.
He said Bird and a couple of others called themselves "The Bad Boys Club", who looked to bend the rules.
Mr Carey said Bird would email around and copy him in over his "perceived grievances".
However, near the time of the killings, he said, he thought the matter had been settled.
"If he held a grudge against me, which he clearly did, he hid it really well," he told the inquest jury.
James and Jennifer Jackson's son, Chris, told the inquests into their deaths: "They were two loving people, well liked and respected in the community and still missed to this day."
The inquest continues.