Derrick Bird's last two victims 'shot seconds apart'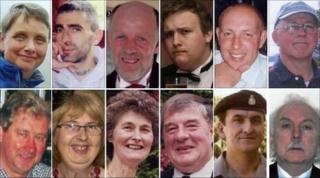 Gunman Derrick Bird murdered his last two victims seconds apart as police closed in, an inquest has heard.
Both Michael Pike, 64 and Jane Robinson, 66, were shot within a few hundred yards of each other on the road in Seascale where they both lived.
The 52-year-old taxi driver killed 12 people and injured 11 in west Cumbria during his rampage on 2 June last year.
The inquest in Workington also heard from pub landlord Harry Berger, who survived the gunman's blast.
CCTV cameras in Seascale showed Bird at 1127 BST on 2 June - seconds before the double killing - followed seven minutes and 43 seconds later by chasing police cars.
Gillian Culshaw, an engineer, was walking down Drigg Road into Seascale with her young children.
She spotted Mr Pike, a former pipe fitter and management consultant, cycling up the hill towards her.
Loud 'pops'
She then saw Bird in his Citroen Picasso taxi driving "really, really close" behind Mr Pike.
He touched the back wheel of the bike with the left wing of his car and it buckled, Ms Culshaw told the inquest at the Energus centre.
She then heard two loud "pop" sounds and Mr Pike slumped against a wall at the side of the road before Bird slowly drove off.
Bird then travelled further up the hill where Miss Robinson was delivering Betterware catalogues door-to-door.
Bird is thought to have called her over to his car and then shot her in the face from point blank range as she appeared to peer into his vehicle.
Delivery van driver David Willis was in his cab 20ft (6m) away dealing with paperwork when he heard the shotgun blast and looked up.
"At that instant I saw a body slump backwards on to the pavement," Mr Willis told the hearing.
"Then he just drove away calmly."
Pub landlord Harry Berger, 40, told the inquest how he was shot twice and lost two fingers because he stopped and gave way to Bird.
Although Mr Berger had right of way, he reversed his 4X4 vehicle in a railway tunnel near Seascale to let Bird pass and was blasted with both shotgun barrels.
Bird had just killed his 10th and youngest victim, 23-year-old Jamie Clark.
The father-of-two said: "There was an awful lot of blood, there was an awful lot of pain."
Recalling the moment Bird shot him, Mr Berger said: "As he came through he stopped and started fiddling and picked up the gun. I started to wind down the window.
"I said, 'Just don't threaten me with that', and the next thing I knew he shot me."
'Extraordinary sound'
The first of Bird's shots shattered Mr Berger's side window and wing mirror, hitting his right hand with shrapnel and leaving his little and ring finger hanging off.
Both fingers had to be amputated.
Mr Berger said: "The sound was extraordinary - and that will go with me to the grave.
"I did not realise my hand hurt. There was damage to it. I did know I caught bits on my face."
He said Bird looked "puce, very uptight, sweaty and in a hurry" when he pulled the trigger again.
Mr Berger said: "I instinctively put my arm up and he then shot me again through the back of my upper arm.
"Again it must have been incredibly close to the barrels because the entry wound is very small."
Bird eventually turned the gun on himself.
The inquest continues.