Cumbrian teaching assistant pay row debated in Commons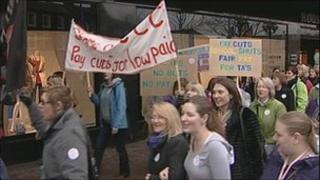 A pay dispute involving teaching assistants in Cumbria has been been raised in Parliament by a local MP.
Cumbria County Council is introducing a nationally agreed pay scheme, which some workers say could cut their salaries by £3,000 a year.
Speaking in the House of Commons, Workington Labour MP Tony Cunningham said teaching assistants were "angry".
But local Government minister Bob Neill said his hands were tied and employers had to meet their "obligations in law".
Mr Cunningham told the Commons: "Teaching assistants are angry and demoralised.
"I had more than 70 come to my surgery recently and they are feeling hurt, upset and desperately worried about their future.
"This situation has brought some of the most caring people I know out to protest on the streets of Cumbria - that's how important this is to them."
Underpaid job
Cumbria County Council said it was sympathetic to those facing big pay cuts and was involved in a number of appeals.
It also said the new pay structure would be fairer, with some staff better off under a single-status pay scheme.
But it admitted the change could mean some of the county's 3,500 teaching assistants being worse off.
In Cumbria, teaching assistants are currently contracted to work 32.5 hours but are paid for 37 hours a week.
Mr Neill said: "Any employer going through a process has to meet their obligations in law."
Earlier this month some 700 teaching assistants held a protest march through Carlisle against the plans.
Unison regional organiser Dave Armstrong said: "Teaching assistants face immense pay cuts in what is already an underpaid job."
The county council said it was forced to bring in changes to avoid equal pay legal claims.
The changes are due to take effect from September 2012.