Power lines in Cumbria checked by helicopter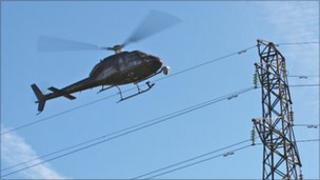 Helicopter patrols are being used to inspect power lines across Cumbria.
Teams will use thermal imaging equipment to detect any potential problems in an operation organised by Electricity North West.
The inspections start in Cumbria on Monday as part of a project to check 621 miles (1,000km) of overhead lines in the north-west of England.
A thermal camera can detect variations in the temperature of overhead lines which will be assessed by engineers.