Pledge to improve policing of Appleby Horse Fair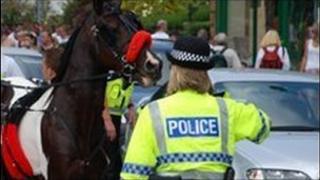 Cumbria Police have pledged to respond "proportionately" to any trouble at this year's Appleby Horse Fair.
The annual event, which is one of Europe's largest gatherings of Gypsies and travellers, takes place in June.
Police were criticised during last year's event for treating some travellers abusively and unnecessarily closing some local pubs.
Officers have had extra training so they understand the significance of the event to the travelling community.
In 2010 Cumbria Police were accused by the travelling community of exercising "seriously bad judgement".
For the past four years the event, which attracts about 40,000 people, has been organised Multi-Agency Strategic Co-ordinating Group (MASCG), which includes local councils and the police.
'Ironed out'
Cumbria Police Assistant Chief Constable Jerry Graham said: "Since last year's event, we have been in regular contact with representatives from the Gypsy and traveller community to discuss how we can improve the policing of this year's fair.
"We have invested in extra training for officers and staff, which has been led by a representative from the Gypsy and traveller community.
"We will provide a proportionate response to any issues that may arise."
Traveller representative on the MASCG Bill Lloyd said: "We believe we have ironed out the problems that came up last year.
"I know we can move forward positively with the authorities to create a fair that can be enjoyed by locals as well as visitors."
The fair is due to take place from 2 June to 8 June.