Doctors back Cumbria hospital shake-up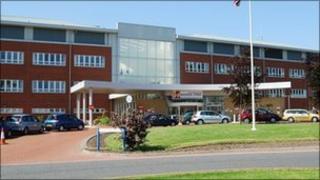 Plans have been unveiled for a shake-up of hospital services in Cumbria.
Hospital and family doctors are backing proposals for a new West Cumberland Hospital in Whitehaven, which would concentrate on elective surgery.
More specialised services would be developed at Carlisle's Cumberland Infirmary to treat people who currently have to travel outside Cumbria.
Independent experts will now assess the plan to ensure it is sustainable and can achieve the necessary efficiencies.
Mike Walker, medical director at North Cumbria University Hospitals Trust, said: "One of the key challenges facing hospital care in north Cumbria has been the relatively small population served, a population which nonetheless would find it difficult to travel further for medical care that can only be provided in hospital, particularly for accident and emergency and maternity services.
"To help square that all-important circle, hospital clinicians and staff will increasingly work as one team across both sites, ensuring that patients are always seen in the right place at the right time to give them the best possible recovery."
Dr Peter Weaving, lead GP for Carlisle, said: "There is an enormous amount of hard work still ahead but this strategy sets out clearly how hospital and family doctors will work shoulder to shoulder in delivering strong, safe and sustainable health services for the people of north Cumbria."