Gunman Derrick Bird acted as 'revenge for failings'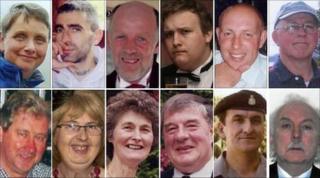 Gunman Derrick Bird shot 12 people dead because he wanted "revenge for his failings", an inquest has heard.
The 52-year-old blamed the rest of society for his shortcomings and took revenge rather than just kill himself, psychologist Dr Adrian West said.
Bird shot dead 12 people before killing himself on 2 June.
Days after the killings, police asked Dr West to try to work out Bird's motives. He said he thought Bird seemed "ordinary" but held grudges.
Dr West, a consultant forensic clinical psychologist, said he thought the gunman targeted his twin brother David and solicitor Kevin Commons because of his mistaken belief they were conspiring against him.
Resentful and hostile
He then targeted taxi drivers who he thought had humiliated him before committing "dreadful violence" against random strangers in a bid to achieve "notoriety", Dr West said.
He also said he thought Bird knew what he was doing as he deliberately chose his victims, but that he also decided not to harm certain people.
Dr West said: "It is my opinion that by the time of his death, Derrick Bird appeared to be a bitter, resentful and depressed man, blaming the rest of society for his failures.
"He appeared to be suffering from a delusional disorder which disinhibited him sufficiently to enact vengeful, retaliatory fantasies.
"He had the means and the knowledge to kill himself alone relatively easily in a diving accident [Bird was a diver] or with a firearm.
"In causing grief to his community he chose from the vantage point of his own embitterment to reaffirm himself, believing that people would never forget him.
"He thought that by doing as much damage as he did he was achieving some kind of notoriety."
Dr West said Bird's mother, Mary, had said that when her son was growing up he kept his troubles to himself, did not argue with anybody and never lost his temper.
"She described that apparent self control as positive. I am not so sure as the years go by about how positive that was for him."
Bird had a close friend of 30 years and a number of drinking friends but some of these were superficial friendships, Dr West said.
He also said Bird did not have a "sophisticated emotional understanding of himself or other people".
Dr West added: "His point of reference was only himself. He just had his own point of view and his own view was increasingly resentful, hostile and ultimately led to an outpouring."