Cumbria shootings inquest: 'Weakness' in 999 services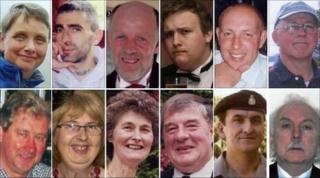 A review into the Cumbrian shootings has criticised the way in which police and ambulance services work together.
Derrick Bird shot dead 12 people before killing himself on 2 June last year.
The inquest into the deaths had already been told that ambulance crews were told to stay away until the area was declared safe.
But Assistant Chief Constable of West Mercia Police Simon Chesterman said emergency services should "put themselves at risk".
'Cannot go on'
Giving evidence at the inquest into the deaths, he said: "We need to get better at understanding each other's needs.
"If I was commanding the incident, the overarching aim would be to protect the public from harm. We would expect emergency service staff to put themselves at risk to carry out this strategy.
"We cannot go on with this confusion as to response.
"We have to get smarter at it."
He also highlighted weaknesses in communication on the airwaves. He said this too was a national issue.
"Time and time again with national large scale exercises and operations, airwave lets us down," he said.
"This is not a problem unique to Cumbria. It is a problem that is common.
"Airwave nearly collapsed and if it had it would have been catastrophic."
The inquest heard that the police's response to the massacre on the day by Cumbria Constabulary was "reasonable in the circumstances".
A total of 30 armed officers were deployed in the hunt for the gunman within 90 minutes of Bird targeting taxi drivers in Whitehaven.
Mr Chesterman said the aim was to "neutralise the threat" posed by the taxi driver as he drove along his route with the priority to protect the public.
His report, which has not yet been published and was commissioned by Chief Constable of Cumbria Police Craig Mackey, highlighted a number of weaknesses.
But Mr Chesterman said even if they had been implemented at the time it would have made no difference to the outcome.
Giving evidence, he said: "It's reasonable to identify weaknesses when looking in detail at split second decisions taken in fast-moving incidents.
'Hand on heart'
"If you said to me 'was the Cumbria Constabulary response reasonable in the circumstances?' Yes it was. "Could it have been better? Yes it could and we learn every time that these tragedies happen.
"Hand on heart I could not say had those weaknesses not been present he would have been stopped any sooner."
"The fact that Derrick Bird had extensive local knowledge, was a taxi driver, was intent on causing as much damage as possible and the route and the incredible amount of terrain he covered... he made it incredibly difficult to find him.
"The overall response from the constabulary was reasonable in the circumstances and I do not believe they had any opportunity to stop him sooner."
He made a total of nine recommendations to the force, which have been accepted, the jury heard.
On a positive note, he said he was "absolutely convinced" the decision to quickly relay the "lockdown" message to the public to stay indoors while Bird was on the loose had saved lives.
He also praised the bravery of officers who went into the deep wooded area to search for Bird not knowing that he was already dead.
Assistant Chief Constable of Cumbria Constabulary Jerry Graham, who was Gold Commander for the incident, said there had been "strains" in the communications on the morning between the police and the ambulance service, and he had not been aware at the time of problems with evacuating casualties.
'1,600 calls'
He said that with 30 crime scenes up and running it was "not realistic" that officers could have escorted ambulance staff to each place while Bird was still at large.
The inquest in Workington was told that both agencies have been consulting since to develop a new policy on how they can operate together in spontaneous conflict situations.
Mr Graham also outlined difficulties in locating Bird to the inquest jury as 1,600 calls about the incident came in to its two control rooms in just two hours.
He said they had had to work with "imprecise and sometimes contradictory information".
In conclusion, he said: "We got as many armed officers as we could to West Cumbria. We flooded the area to find and then neutralise the threat.
"We were very unlucky on several occasions not to intercept him.
"I am confident that the constabulary did everything it could to try and find him."