Flood-hit Workington's new bridge gets go-ahead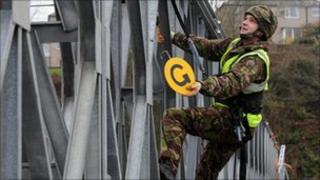 A town which lost its bridge in the floods which hit Cumbria in November 2009 is to get a new river crossing.
Workington's Northside bridge collapsed into the swollen River Derwent, killing Pc Bill Barker who was on the bridge diverting traffic.
After the collapse, the Army erected a temporary footbridge, but that was taken down earlier this month.
Cumbria County Council has now approved plans for a new bridge which will be in place by May 2012.
Pc Barker, a father-of-four, from Egremont, died when he fell into the river, which had been swollen by record rainfall.