Solway faith trail links nine churches in Cumbria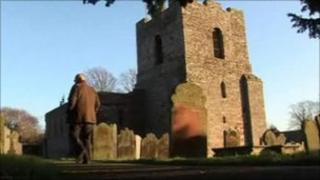 Churches in north and west Cumbria are getting involved in a new faith trail.
The Solway faith trail will allow locals and tourists alike to discover more about the culture and history of the area.
Eight churches and an abbey are involved in the project.
The trail and leaflet have been produced through a project led by the Churches Trust for Cumbria and the North West Multi-faith Tourism Association.
The Bishop of Carlisle, James Newcombe, said that it had helped him get to know more about churches and the area.
The churches at Beaumont, Burgh-by-Sands, Bowness-on-Solway, Kirkbride, Newton Arlosh, Aikton, Great Orton and Kirkbampton, along with Home Cultram Abbey in Abbeytown, will form the trail along with a visit to the Edward I monument on Burgh marsh.
Each church will have its own leaflet detailing its history. Local amenities and facilities will be displayed to help visitors enjoy the area and all the churches will be open daily throughout the year.
Solway Faith Trail leaflets can be collected from local Tourist Information Centres and from all of the participating churches.