Levens Hall topiary threatened by disease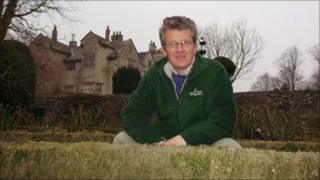 The famous topiary shrubs at Levens Hall in south Cumbria are under threat from a fungus known by gardeners as "box blight".
The large specimens that attract thousands of visitors each year are safe, but gardeners are looking for something to replace the one mile of low box hedges that surround the flower beds.
Chris Crowder, the gardener at Levens Hall, said: "The disease struck in he gardens at Levens about two years ago and hits the box edging more than the larger plants."
"It is known as the black death among gardeners because the first thing you see is shiny green leaves turning black in just a few days".
Box blight is a disease of box leaves and stems often caused by two fungi.
It was first spotted in the UK about 10 years ago.
The garden staff at Levens Hall are now investigating whether other plants, including a Japanese form of holly, could be used to surround flower beds.
Parts of the Grade I listed garden at Levens Hall date back to 1694 and are visited by 40,000 people every year.