Young Cumbrians choose the news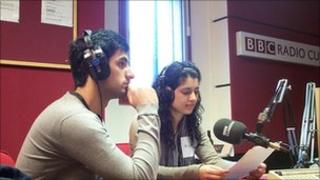 A team of young editors has been helping journalists at BBC Radio Cumbria decide on the content of the Mike Parr Breakfast Show.
The Cumbrian youngsters are part of a leadership project run by the Ambleside charity, Brathay Trust.
Politics, football and the armed forces were top of their agenda.
They provided reports on youth council elections, a visit from a Manchester United legend and a former RAF serviceman.
Youth of today
The Youth of Today project has been running at 10 locations in the UK for the last two years.
In Cumbria it has been delivered by Brathay Trust with the aim of encouraging leadership skills in the county's young people.
Several sub-groups have been running in different parts of the county.
Young people from the Carlisle group spent a morning in the BBC Radio Cumbria studio's deciding what should go on air, presenting links and contributing to debate.
Getting their voice heard
One of them, Nicola from Brampton, said: "It's a great way for young people to get their voice heard and promote some of the really positive things they're doing for the area."
The group felt young people are often portrayed in a a negative light in the media so welcomed the chance to show the other side of the story.
Holly from Penton said: "The media does tend to focus on the bad side of young people."
Their reports included a visit from Viv Anderson, the former Manchester United and England footballer, and a discussion on the Cumbrian youth council elections.