What will the future hold for Barrow?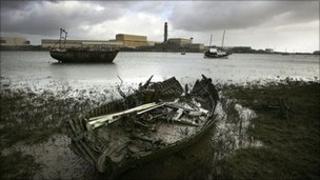 As tough economic times continue to bite, radio presenter and producer Bob Dickinson went back to the Cumbrian town he knows well to discover how it is faring.
His father came from Barrow and he was interested to discover how such a geographically isolated town could keep going in these times and how it could reinvent itself.
His findings were broadcast in BBC Radio 4 programme Barrow.
The town has a rich industrial heritage with, over the years, that industry being ironworks, docks, ships and now submarines, which has seen its fortunes ebb and flow.
BAE Systems is currently building a fleet of Astute class submarines for the Royal Navy.
BAE managing director John Hudson said it had employed about 14,000 people in the 1980s but following Perestroika and the defence spending reduction that followed, that dropped to 3,000.
He said: "I think that had a very profound impact on the community.
"I think the community is quite resilient. I think they have slightly greater diversity in the economy now then there was maybe 20 years ago."
He said with the current nuclear submarine work, it was now employing 5,000.
A decision by the government about whether to replace the Trident missile programme, which has been delayed, will have a major impact.
Tom Campbell, chief executive of Barrow Borough Council, which has a Conservative leader but is under no overall control, said in light of a projected deficit, it would have to cut its net expenditure by close to 30%.
He said following the forthcoming whole-council election, the new administration would need to decide its priorities. But he said there would inevitably be a reduction in services.
There have been ambitious plans for Barrow including a waterfront scheme with a marina and cruise liner terminal.
'Getting somewhere'
But those involved in breathing new life into the town said the impact of tough economic times was already being felt.
Val Holden, from the council's regeneration department, said: "We are just in the process of seeing everything vanish before our eyes at the moment.
"We just felt that we were getting somewhere."
She said the biggest loss was funding, with the end of the North West Development Agency.
"So it's not just the money that has gone, it's those people who have built up quite a bit of knowledge about our town and our economics and what's best for the town," she said.
But Mr Dickinson discovered industry was not all there was to Barrow, with a wide range of arts organisations based in the town and interested in its regeneration.
One of them is independent art research facility Art Gene.
Co-founder Maddi Nicholson said the combination of industry and natural beauty provided an interesting mix for organisations such as theirs.
She said: "You have got all that heavy industry happening right here in the middle of the town and the detritus of that and all the interesting artefacts.
"But also you have got some of the most gobsmacking coastlines.
"We have got eight islands in Barrow and amazing natural wildlife - we have got bird sanctuaries and SSSIs (Sites of Special Scientific Interest) all around Barrow."
Listen to the full programme on the BBC iPlayer until 25 April iPlayer - BBC Radio 4 - Barrow