Warning over rise in algae levels at Killington Lake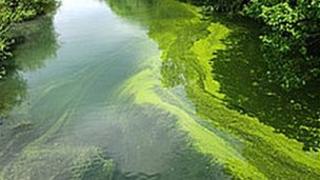 Levels of a potentially toxic algae found in a Cumbrian Lake have prompted a safety warning from council bosses.
South Lakeland Council said levels of blue green algae had risen significantly at Killington Lake.
The organism develops naturally but can cause illness to people and animals who come into contact with it.
Watersport enthusiasts, pet owners and farmers have been warned to avoid contact with the the algae, which can cause skin rashes and illness.
The council's public health manager Tracy Howard said: "Blue green algae can potentially make people feel quite ill if swallowed or even by just swimming in it.
"We want people to be aware of the effects and are asking them to be extra careful and vigilant when using the lakes and rivers for recreational purposes.
"The warmer temperatures over the last week seem to have encouraged blooms that we would not normally expect at this time of year.
"The public should observe any notices near affected areas and avoid contact or drinking the water."
Many waters are vulnerable to problems with the algae, typically between June and November.