Road deaths prompt warning to bikers visiting Cumbria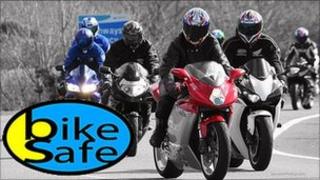 Police in Cumbria have issued a bank holiday warning to bikers after six fatal crashes in two months.
The May Day holiday weekend is traditionally one of the busiest on the roads as hundreds of bikers descend on the county.
The force has urged visiting motorcyclists to "think of families and ride safely".
Extra patrols will monitoring known danger areas as part of the force's Bikesafe scheme.
Scheme manager Sgt Jo Lennox said: "My team and I love welcoming bikers to the area to enjoy all we have to offer.
"Cumbria is a haven for motorcyclists, as our roads are relatively traffic-free and we have some of the most stunning scenery in the UK.
"We spend a lot of time engaging with bikers in the area, encouraging them to stay safe.
"But unfortunately this message is not getting through, and we have already dealt with six fatal motorcycle collisions in Cumbria in just two months.
"That is six tragedies too many, and six families torn apart by a needless death.
"My officers and I will be out and about throughout Cumbria this weekend, keeping an eye on motorists' behaviour."
The latest biker death happened on 25 April, when Stephen Gray, 43, from South Shields, died after his motorcycle hit a dry stone wall on the A686 near Alston.