Labour gains control of Barrow Borough Council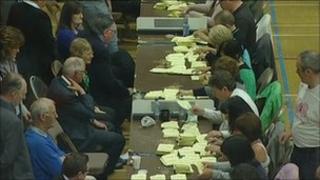 Labour has gained control in Barrow after winning 13 seats.
The borough council had been run as a Conservative and Independent alliance coalition with a Conservative leader.
Elsewhere, Labour gained six seats in Allerdale District Council and one in Carlisle City Council, although both remain in no over all control.
Liberal Democrats gained three seats in Eden District Council and the Conservatives four, but it also remains under no over all control.
It had been run as a Conservative and Independent alliance coalition, with a Conservative leader.
In alliance-led Allerdale, the Conservatives lost six seats and the Lib Dems four. Labour gained six and independent candidates won four.
Labour also strengthened its hold in Copeland, increasing its majority by four.
The Lib Dems held on to South Lakeland District Council with the only change being one seat lost to the Conservatives.
There was also little change in Carlisle, which had been run by a minority Conservative administration - Labour won one seat and the Lib Dems lost one.
The count took place overnight, and following the result, Labour councillor Michael Boaden said: "The reality of tonight's result when you look at all of the results is that people are making a very, very clear choice about the kind of council that they want and the kind of people they want to lead that council and it's Labour people."
Carlisle Conservative MP John Stevenson said: "I think there is a general acceptance that actually what the national government is doing is what this country requires.
"They accept there has to be a bit of austerity, we have to deal with the legacy of the last government. That is what we are doing. We should be encouraged to continue to do that."
Results are due for South Lakeland District Council, where Liberal Democrats have been in power since 2006, and Copeland Borough Council, which has been in the control of Labour since 1979.