Old Goodfellow clock discovered in Scotland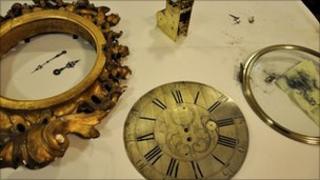 A 250-year-old clock, made in Carlisle, found under a pile of leaves in the boiler room of the Church of the Holy Rude in Stirling is undergoing restoration.
The two-foot high gilded clock, disappeared for 75 years and was believed to have hung on a dividing wall between two sections of the Church.
Douglas Tod, Property Convenor of the Stirling Church, is now undertaking the ancient clock's restoration.
The silver-gilt clock once adorned the wall of the Church of the Holy Rude, which was founded in 1129 during the reign of King David I.
James VI was crowned King of Scotland there in 1567, in a service conducted by John Knox.
The two-foot-tall clock was bought in the 18th Century, and would have measured the lengthy sermons suffered by generations of congregations.
Research undertaken by Mr Tod has so far been unable to find anything about the clockmaker, and if this is the last remaining example of his work.
Mr Tod hopes, that once restored, the clock could make a return to the home of it's maker, Goodfellows of Carlisle.