The Duke of Lancaster's regiment receives town honour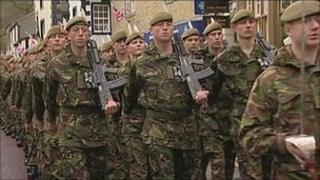 Soldiers of the Duke of Lancaster's Regiment will march through Ulverston when they are granted Freedom of the Town.
The official ceremony and parade is to take place in Ford Park on Saturday.
Ulverston Town Council is to bestow the honour on the regiment, which has close ties to the area.
About 160 soldiers from the regiment will be on parade. The freedom will be conferred on the regiment by the Mayor of Ulverston, Phil Lister.
He will formally present an illuminated scroll to the regiment during a service involving the clergy in Ulverston and the Battalion padre.
Battalion colours
It will be accepted by the Colonel of the Regiment, Brigadier M.T. Griffiths C.B.E., who will then present to the Mayor a silver replica of a Salamanca Eagle.
The soldiers will then be led by their Commanding Officer, Lt Col N.I. Wood, to the accompaniment of a band, on a march through the town from Ford Park at 1300 BST passing the Town Hall and carrying the Battalion colours.
The Duke of Lancaster Regiment was formed in 2006 from an amalgamation of the Queen's Lancashire Regiment, the King's Own Royal Border Regiment, The King's Regiment and the Queen's Lancashire Regiment.
Freedom of a town or city dates back to medieval times and traditionally allowed the recipient to enjoy such privileges as the right to trade and own property as well as protection within the town.