Flood-hit lake footpath at Thirlmere restored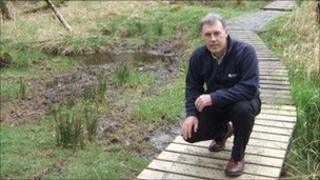 A flood-hit Cumbrian lakeshore footpath has been restored.
Some sections of Thirlmere footpath, near Keswick, were damaged beyond recognition in Cumbria's floods of November 2009.
The five-mile route links with other public and forest paths to form a 10-mile circuit around the whole of Thirlmere reservoir.
New boardwalks and local stone have been laid, with fallen trees used for edging, and footbridges rebuilt.
Woodland project officer Vicky Bowman, who oversaw the scheme, said: "I'm sure this will be good news for the hundreds of people who visit Thirlmere every year because the path looks great.
"It winds its way along the bank connecting car parks and viewpoints and because so many of the materials we've used to re-make the path come from the estate itself, you would hardly tell it's so new."
Workers concentrated most of their efforts on sections of path between Steel End and Dobgill and from Armboth to Gun Point.
The path is privately-owned by United Utilities, whose northern catchment manager Paul Phillips, said: "We go to great lengths to keep our water catchments healthy and beautiful and open for people to enjoy."