Photographer's panorama pleases Penrith tourists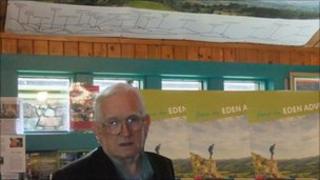 An unusual photograph is catching the attention of people visiting Penrith's Tourist Information Centre in Cumbria.
A 7ft (2.1m) long panorama shows the Lake District fells as seen from above the town's golf course on Lazonby Road.
The photograph is a gift from 78-year-old Frank Owen who lives in Penrith. Mr Owen took multiple pictures with a digital camera and put them together to make the panorama.
During printing a map profile was added with all the names of the fells.
Mr Owen's photography hobby sustained him following redundancy, because he was able to earn money from weddings and portraits.
"I went above the golf club and photographed the spectacular fell side as a bit of an experiment", said Mr Owen.
"It was winter time with snow on the fell tops. With persistence, trial and error I got an acceptable result."
The photograph is on display in the Tourist Information Centre, which is open every day throughout spring and summer.