Carlisle's Tullie House Museum gains charitable status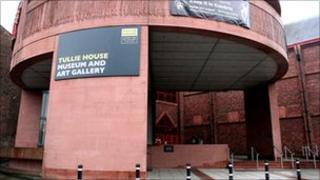 The operation of a Carlisle museum has been transferred from the city council to specially-formed charitable trust.
Managers at Tullie House Museum and Art Gallery will now be eligible to apply for more grants and be exempt from certain taxes.
The new status will also mean it will be less dependent on public and voluntary funding.
Carlisle City Council will retain control over the building and exhibits, with the trust delivering its services.
Councillor Mike Mitchelson, Leader of Carlisle City Council, said: "Tullie House is the jewel in the crown of Carlisle, and we want it to be the leading and most influential arts and cultural institution in the region and the hub of tourism and related activities.
"We have considered the cultural, educational and financial implications and it means that we retain the collections and buildings but the Trust can develop the museum's services and access new sources of funding.
"This decision means that the City Council has ensured a positive future for one of the city's most important assets and will continue to serve Carlisle's residents."