Cumbrian teacher researches pupil names on war memorial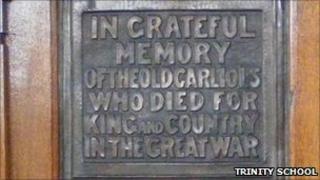 A teacher from Cumbria is researching 88 former pupils named on a war memorial at her school.
Head of history at Trinity School in Carlisle, Linda Hodgson, is documenting the history behind the names listed on a wooden World War I memorial on display in the hall of the former Carlisle Grammar School.
A website has been produced to gather images and details, which she hopes will help relatives and current pupils learn more about local history and how the men died.
Her studies so far have found that many of the men died in France and Belgium.
Reginald Atkinson from Bowness on Solway, is one of the men named on the plaque. He was killed in France in 1917 aged 19.
The son of the headmaster of nearby Bowness on Solway School, his father closed the school for three days on hearing of the death of his son.
As part of the continuing project, pupils have visited Ypres in Belgium and the Somme in France to place crosses on 32 graves of former pupils.
Ms Hodgson said: " When you start to know individual details about the men and actually visit their graves, it makes the experience personal for the current students."
The youngest pupil recorded on the memorial died aged 17.
Following her success with this memorial, Ms Hodgson has started to study the names on two other memorials at the school.
These feature the names of former pupils killed during World War II.