Anchor residents in Carlisle could be made homeless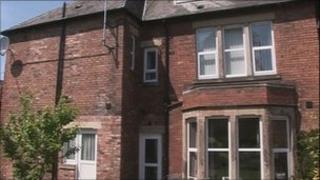 An Anchor Homes facility in Carlisle has asked its residents to move out because it says the building is "no longer fit for purpose".
The company said it could not afford the £184,000 needed to modernise its Edenvale home building and so has made the decision to sell.
The seven residents have between six and 12 months to find a new home.
In a statement, Anchor said staff would work with tenants to make sure they were re-homed and supported.
Resident Jyoti Saraswati, who is in her 70s, said: "We'd all like to stay here, this is our home. We've made a nice small community amongst ourselves here.
"You feel a bit helpless, you cant just say 'Yes I'll move there' - it might not have the facilities for me to keep the scooter, so that would mean I'd be stuck in the house all the time, and I don't think I could face that."
'Devastated for them'
In a statement, Anchor said: "This was a very difficult decision for us to make as we know it will worry and upset our tenants.
"No amount of general maintenance work would overcome the fundamental problem that the accommodation is outdated and unattractive to new tenants."
Councillor Liz Mallinson said the residents were now classed as homeless, adding that she was pushing to add an extra six months to the deadline for moving out.
"They're very switched on people, and independent in their own flats," she said.
"I'll be there making sure they're shown other homes. I know Anchor Homes have put a freeze on any (residences) in a five-to-10-mile radius of Carlisle.
"They're like my mum and dad, and people like that, and I'm devastated for them."