Hope for return of rare butterfly in the Lake District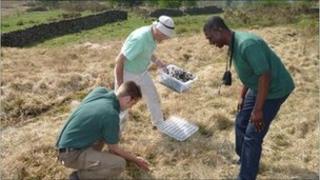 Wildlife experts have released thousands of caterpillars in the Lake District as part of a project to return rare butterflies to the area.
The 4,000 marsh fritillary caterpillars were introduced on a number of sites around Ennerdale Water.
Butterfly Conservation said the butterflies had lived in the area but became extinct in about 2004.
Caterpillars were released in 2007 and last year and it is hoped the project will lead to them thriving again.
Steve Clarke, from Butterfly Conservation, said: "This year's release is a continuation of that project and we hope that these increased numbers will further help the re-establishment of marsh fritillary in the valley."
The release was carried out by Wild Ennerdale Volunteers, Forestry Commission staff and Butterfly Conservation.