Appleby Horse Fair arrests down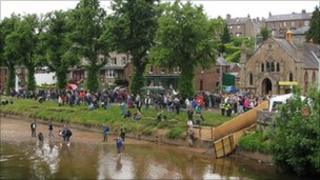 Arrests at the Appleby Horse Fair in Cumbria have fallen compared to previous years, despite an estimated 25% increase in visitors, police said.
Estimates put visitor numbers at about 50,000 for the fair - one of Europe's largest gatherings of Gypsies and travellers - which ends on Wednesday.
Cumbria Police said 48 arrests had so far been made - compared with 62 at the same time last year.
A man who sexually assaulted a woman on 4 June is still being hunted.
Assistant Chief Constable Jerry Graham said: "There have been a few isolated incidents of violence during this year's fair.
"But overall it has been more peaceful and enjoyable than in other years, despite the vast increase in visitor numbers.
"Many Gypsies and travellers took sensible precautions this year by travelling to the fair in bow tops with Transit vans travelling closely behind, displaying their hazard lights.
"Thousands more vehicles will again be using local A and B roads as they start to leave Cumbria so we are urging motorists to take this into consideration."