Carlisle Cathedral marks Bible anniversary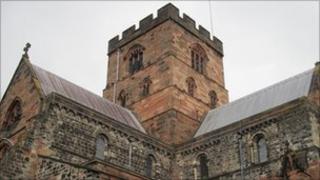 Nine illustrative panels have been installed in Carlisle Cathedral to mark the 400th anniversary of the publication of the King James Bible.
The panels displayed inside the cathedral, which was founded in 1122, explain the history and background to the book.
Compiled from earlier translations, scholars tried put the word of God in a form the masses could understand.
The result was the text known as the King James Bible.
Canon David Weston, from Carlisle Cathedral, said: "This particular English version has the merit of being a very important literary stage in the development of the English language as well as a beautiful translation of the bible."
For nearly 300 years it was the only Bible approved for use in the Church of England.
The validity of the translations that form the King James Bible are widely discussed and challenged.
The Prince of Wales is patron of the King James Bible Trust, established to celebrate the Authorised Version's 400th year.
Visitors to Carlisle can see the information panels until 27 June.