Bird coroner plea prompts change to medic delay rule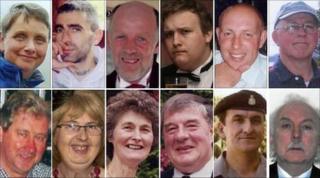 A policy which prevented ambulance crews helping those shot by Derrick Bird during his rampage in west Cumbria a year ago is to be scrapped.
At the shootings inquest, coroner David Roberts criticised rules which prevented crews entering danger areas until they were cleared by police.
He wrote to Health Secretary Andrew Lansley asking for a review.
In his reply Mr Lansley says crews will be able to carry out risk assessments at the scene of serious incidents.
A verdict of suicide was recorded on Bird - who shot himself - and unlawful killing verdicts were recorded on his 12 victims.
Bird also injured 11 people during a 45-mile rampage on 2 June last year.
While the shootings were continuing, ambulance crews and paramedics refused to attend areas until they were declared safe.
Medics were following their health and safety protocol which resulted in some victims having to wait hours before paramedics arrived.
Mr Roberts stressed that it was unlikely any of those who died could have been saved by early intervention of medical crews.
But he told Mr Lansley that circumstances could be different in a similar incident and that lives could be saved if the protocol was reviewed.
Replying to Mr Roberts, the health secretary said: "Perhaps the most valuable lesson learnt from the Derrick Bird case was that the normal policy of determining the safety of an incident as a whole was not appropriate in these or any similar circumstances.
"In future, should an incident such as this occur again the personnel attending the incident will undertake a risk assessment of the scene themselves to decide on the most appropriate course of action.
"I understand that the lesson learnt from this incident will be shared with all senior ambulance leaders at their annual conference."
Mr Roberts said he was "very pleased" with the positive response from the health secretary.