Whitehaven man dies after car hits side of bungalow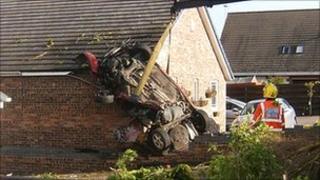 A man has died in hospital after his car left the road in west Cumbria.
The 22-year-old, from Whitehaven, was travelling through Moresby village in the early hours when his Seat Ibiza struck a gate-post.
It went on to hit a number of parked vehicles and some trees before coming to rest against the side of a bungalow.
The driver was taken to hospital, but later died. A passenger in the car, also 22 and from Whitehaven, is being treated for serious injuries.
The Reverend Deacon Stephen Scott, who lives two doors away from the house that was hit, said: "My wife and I were asleep and I heard this enormous bang, as if maybe a tornado had hit the house.
"Then there was a ricochet as if something was falling on to it.
"When I looked outside the fence had gone, I couldn't see it or the trees.
"Then I saw a car upright against the third house along, so immediately called emergency services."