Tribute to Whitehaven crash death man John Robson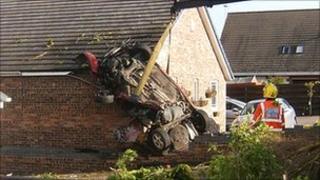 A 22-year-old who died when his car crashed into the side of a bungalow in Cumbria, has been described as a "wonderful man" by his family.
John Robson, from Snebro Road, Whitehaven, was travelling through Moresby village early on Saturday when his Seat Ibiza struck a gate-post.
It went on to hit a number of parked vehicles and trees before colliding with the side of a bungalow.
His family described him as a "wonderful son, brother and uncle."
A passenger in the car, also 22 and from Whitehaven, was treated for serious injuries.
A family statement released by Cumbria Police said: "John was a wonderful son, brother and uncle.
"He had a very soft heart and loved spending time with his two nephews, to whom he passed on his passion for motorbikes.
"He was a kind person who would never turn anyone away who needed help even if it was to fix a car, when he knew he would finish up covered in grease and oil.
"He will be sadly missed."