Royal Navy participate in Whitehaven Festival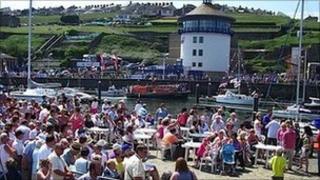 Members of the armed forces will parade in west Cumbria this weekend as part of the Whitehaven festival.
Members of HMS Charger will join colleagues from the latest Astute class submarine, HMS Ambush, to exercise the Freedom of the Borough of Copeland.
They will be led by the Royal Marines Band (Scotland) along the quayside at 10:30 BST.
The Army will be represented by 4 Lancs, and personnel from RAF Spadeadam will also join the parade.
Platoons from the Sea Cadets and Royal Marine Cadets from Whitehaven, Maryport, Barrow and Workington, the Air Cadet Force, Army Cadet Force and representatives from the Veteran's Associations and Royal British Legion will also take part.
The naval regional commander for northern England, Commodore Dickie Baum said: "On behalf of the Armed Forces, I am absolutely delighted that the Freedom of the Borough of Copeland was bestowed upon the three services last summer, and that we've been given the opportunity to exercise that freedom of entry during the prestigious Whitehaven Festival."
Armed Forces Day will be celebrated across the country on Saturday, 25 June 2011.