New Carlisle Airport revamp plan 'overestimated'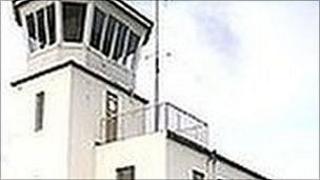 Plans to redevelop Carlisle Airport have been overestimated, an independent report has found.
The Stobart Group, which owns the airport, wants to build a new freight terminal, resurface the runway and put 11 aircraft stands on a new apron.
It said by 2025, it hoped it would have 200,000 passengers annually.
But a report for Carlisle City Council said this was an "overestimate" and more work needed to be done. It wil consider the plans later this year.
The independent report said: "We believe that both the passenger and cargo forecasts are too high."
It also said that the group needed to carry out more market surveys into news services from Carlisle to London, to make sure they were economically viable.
Carlisle City Council had originally given the redevelopment the go-ahead last year.
But this was over-turned on the grounds it should have ordered an environmental impact assessment first.
'Economic needs'
The Stobart group's chief executive, Andrew Tinkler, said he wanted visitors to the Lake District to eventually use the airport.
Those against the plan believe the freight warehouse would dominate the skyline and there would be an increase in heavy lorries.
Mr Tinkler said: "I'm trying to come up with a way to meet Cumbria's economic needs and the needs of the Stobart Group.
"We need to get through planning and put the investment in so people can fly from Carlisle to wherever they want to go."
The move could safeguard 70 jobs and create 150 more, and contribute about £7m annually to the local economy.