Protest over Penrith traffic disruption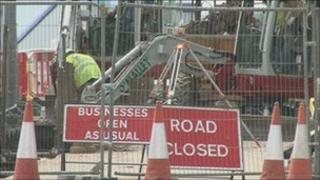 Taxi drivers in a Cumbrian town say they are concerned about the impact of disruption caused by roadworks.
Two supermarkets are being built in Penrith and the town's Brunswick Road has been closed for two weeks for work linked to the developments.
The drivers are holding a demonstration to protest at the disruption to their trade and other businesses.
Cumbria County Council said it believed any inconvenience would be outweighed by the long-term benefits.
Protesting taxi driver Michelle Brunskill said: "It's a nightmare. It's just awful. Yesterday it took me three quarters of an hour to get round town where normally it would only take five minutes."
She said they were suffering because people were choosing to walk and because of the cost of fuel.
But Cumbria County Council said the town was undergoing £100m development works which would inevitably lead to some disruption.
A spokesman said: "The works have been timed to take place now because the opening of both the Booths superstore and New Squares development are looming and without the roadworks they would not be able to open.
"Unfortunately the works are causing some traffic disruption but the long-term benefits of these new developments will outweigh any short-term inconvenience."