Public sector workers hold rally in Carlisle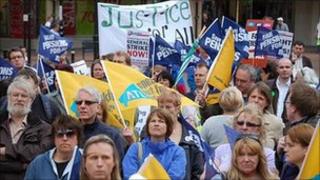 A rally has been held in Carlisle city centre by public sector workers protesting against planned changes to their pensions.
With teachers among those taking strike action, more than 200 schools in Cumbria have been affected.
The council said that of the county's 330 schools, 103 were known to have opened fully.
About 200 people took part in the lunchtime rally, organised by the Northern Public Services Alliance.
Cumbria members of the National Union of Teachers, the Association of Teachers and Lecturers, the University and College Union and the Public and Commercial Services (PCS) Union have been taking part in the strike.
Members of the PCS union at the Rural Payments Agency, in Carlisle, and the British Cattle Movement Service, in Workington, also joined the action.
Cumbria County Council said the decision to close or partially close schools was up to head teachers based on whether they could operate safely with the number of staff who would be working.
In Brampton, parents who faced the prospect of trying to find childcare because of school closures organised an event to help each other out.
They hired the community centre between 1230 and 1530 BST for parents to take their children along for £2.
Donations of food and entertainment have been made.
One of the organisers Janice Grieves described it as a "fun day" and said it came about after parents chatted in the playground about what they could do if the school closed for the day.
She added: "This isn't about the strike. It's not about whether we support it or not.
"It's just about getting together. Everybody sharing what resources we have got and trying to keep the costs down."