Penrith taxi drivers reassured over roadworks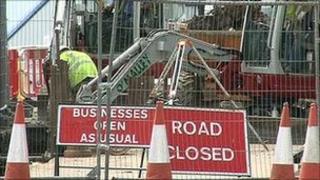 Taxi drivers in a Cumbrian town have been told they will be better informed about proposed roadworks.
It follows an "amicable meeting" between representatives of taxi firms in Penrith and members of Eden district and Cumbria county councils.
Temporary road closures are currently in force in the town, due to work on two major retail developments.
On Tuesday, taxi drivers held a protest to highlight the impact of the disruption on their businesses.
Helen Fearon, who chairs the county council's Eden Local Committee, said the interested parties would work more closely together in the future.
Councillor Gordon Nicolson, leader of Eden District Council, described the informal meeting as "a good starting point and very amicable".
"The attitude of the drivers was very positive and we will now take their concerns forward and hold future meetings," he said.
Taxi drivers Pete Davies and Mike Pochec said they would be seeking more individual taxi drivers and firms to join the Penrith Taxi Owners Association, which attended the meeting, so it could become an organisation to represent their collective interests locally.