Appleby Horse Fair stab attack footage appeal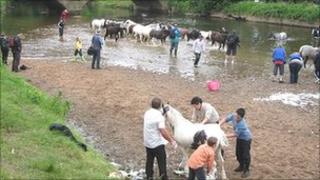 Police investigating a stabbing at the Appleby Horse Fair have appealed for anyone who may have filmed the attack to forward the footage to them.
The incident on 5 June left a 26-year-old man from Greater Manchester with lacerations to his lower back.
Cumbria Police now believed that a number of people had filmed it on their mobile phones or cameras.
The annual horse fair is one of Europe's largest gatherings of Gypsies and travellers.
Det Sgt Peter Goulston said: "It has been brought to our attention that there were a lot of people who appeared to be filming the incident with hand-held cameras or on their mobile phones, so they may have important footage that can assist our investigation.
"If this was you and you have footage that you think can help us, please get in touch."