Carlisle library reopens after £100,000 revamp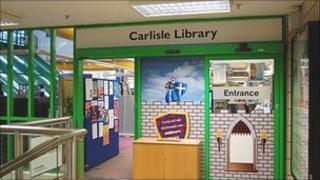 Carlisle library has officially reopened after a £100,000 revamp.
The modernisation work, which was carried out to mark its 25th anniversary, was shaped by comments from library users.
It included installation of self-service machines, allowing people to borrow and return books themselves, and the re-arrangement of stock.
Local authors Hunter Davies and Matt Hilton joined council officials for the reopening ceremony.
Councillor Gary Strong, Cumbria County Council's cabinet member responsible for libraries, said: "The refurbishment of Carlisle library will greatly enhance customer experience and I can't think of a more fitting way to celebrate its 25th anniversary of serving the people of Carlisle.
"I would like to thank everyone's hard work during this process."