Cancer patient Daniel Sencier in Carlisle hospital demo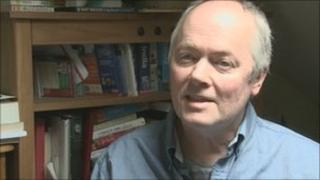 A cancer patient is mounting a protest outside the hospital where he received treatment and later complained about in an online diary.
Health bosses threatened Daniel Sencier with legal action after he wrote of delays in his prostate cancer treatment at Carlisle's Cumberland Infirmary.
Mr Sencier, 59, of Penrith, said he had been offered talks with hospital officials over his concerns.
North Cumbria University Hospital Trust has declined to comment.
Mr Sencier said he had agreed to limit the number of protesters to less than 12 after discussions with Cumbria Police regarding possible access issues at the hospital.
His operation at another hospital was successful and he has been given the all-clear from the disease.
The photography student started writing a blog about his experience and called for improvements in cancer treatment at the hospital.
But he was threatened with legal action by the trust if his blog contained "unsubstantiated criticism".
Mr Sencier said: "After an exchange of calls between myself, the trust and the police, I told the police that we would limit the amount of protesters to less than 12.
"This was to allay the fears of the trust that too many people demonstrating at the entrance of the hospital could cause a problem with access for ambulances and other patients."