Course hope for mothballed Ambleside campus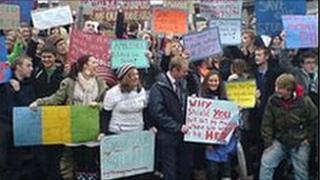 There are hopes that higher education courses could return to the University of Cumbria's Ambleside campus.
The economic situation was blamed for its mothballing in 2010, with the move sparking protests from students.
The university is now considering moving courses for outdoors subjects from Newton Rigg campus, which is being taken over by Askham Bryan College.
A feasibility study is about to get under way, and a decision will be made by the end of the year.
Interim Vice Chancellor, Professor Graham Upton, said: "The university is transferring ownership of the FE provision and, the majority of the Newton Rigg estate, to Askham Bryan College.
"Even though we have decided to transfer this responsibility we will continue with our degree level provision at Newton Rigg for three years.
"This now provides us with an exciting opportunity to plan for the future with significant investment in new facilities for these HE courses, including looking at our best options for future location.
"All existing undergraduate and postgraduate courses in the areas of forestry, conservation, policing, applied science and outdoor studies will continue."
The university has more than 12,000 students at campuses and sites in Carlisle, Ambleside, Penrith, Lancaster, Whitehaven, Barrow and London.