Lake District gets electric bike scheme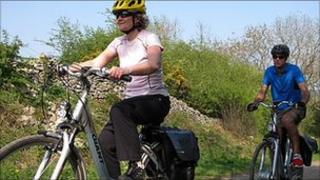 An electric bike hire scheme is being set up in the Lake District in a bid to attract more visitors.
The scheme will provide up to 50 electric bikes to be run by local businesses for visitors to use to explore the lakes and fells of Cumbria.
The move follows the launch of a similar project in the Peak District which has proved popular with tourists.
Bikes hire points include the Brockhole Visitor Centre, Coniston Boating Centre and sites around Windermere.
The Lake District Electric Bicycle Network has support from Cumbria Tourism and the Lake District National Park Authority and is focussed on the central and southern Lake District.
Alistair Kirkbride, from the Lake District National Park, said: "Getting around the Lake District by bike is fabulous, but those pesky hills do tend to put off a lot of people.
"Electric bikes help iron out the ups to give a fantastic way for a lot more people to have a high quality, low impact day out."
Richard Greenwood, head of policy and research for Cumbria Tourism, added: "The electric bicycle network provides a fantastic, straight-forward way for visitors to get out of their cars and truly experience the Lakes, without needing to train first."