Windermere schoolchildren shame speeding motorists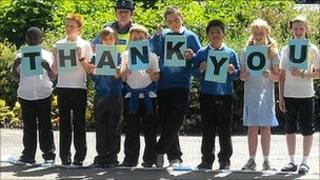 Children in a Cumbrian town have been getting their message across to people who drive too fast near their school.
A group of year-six pupils from Goodly Dale School in Windermere, joined forces with the neighbourhood policing team for the initiative on Monday.
They used a portable speed indication device to check how fast vehicles were travelling on the A5074.
A "too fast" message was held up to drivers exceeding the 30mph limit, and a "thank you" to those observing it.
Sgt Ken Jewell, from Cumbria Police, said: "I think all of the drivers who exceeded the 30mph speed will have been suitably ashamed of their behaviour and, we hope, will slow down next time they pass the school.
"The local community has told us they want police to tackle speeding as a priority, and this is just one of the creative ways we are trying to encourage people to slow down in Windermere."