Vicar blessing for new sewage works in Cumbria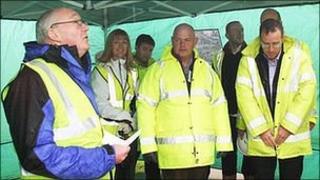 A new sewage treatment plant in Cumbria has been given the seal of approval by the local vicar.
The official opening of United Utilities' Crake Valley wastewater facility included a blessing ceremony.
It was carried out by Reverend Canon Gary Wemyss, of St Mary the Virgin Church in Penny Bridge, in front of staff and community representatives.
United Utilities said the idea for the blessing was suggested by engineers and welcomed by local people.
The plant took a year to build and replaced septic tanks in Penny Bridge and Greenodd.
Project manager Paul Romanko said: "There was so much interest while we were building the works, and people were so accommodating, that we wanted to say thanks and show them what we were up to all those months."