Cockermouth School in international literary quiz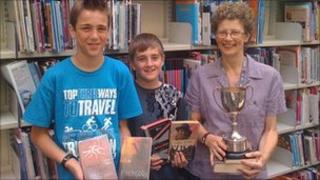 A team of four schoolchildren from a Cumbrian school are to take on other students in an international quiz.
The 12 and 13-year-olds from Cockermouth School are flying to New Zealand to take part the 20th International Kids' Lit Quiz.
Cockermouth School and Bristol Grammar School came first and second in the UK National Final held towards the end of 2010.
Previous world finals have taken place in South Africa and the UK.
Imogen Cowper, 12, Daniel Beresford, 13, Alistair Simpson, 12, and Solomon White, 13, will travel to New Zealand as guests of the Waikato Children's Literature Association.
They will compete against teams from South Africa, Canada, New Zealand and Bristol Grammar School.
Accompanying the pupils is team leader and Cockermouth School Librarian, Helen Farrar.
She said: "It has been a tremendous achievement for these pupils and the opportunity of a lifetime for them."
The quiz final takes place on 19 July.