Great Corby hit by flash flooding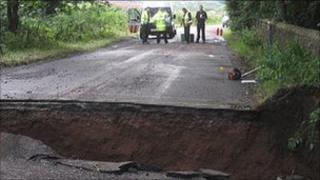 Engineers are assessing the damage caused when part of a Cumbrian road bridge collapsed during flash floods on Sunday.
The bridge, on the approach to the village of Great Corby near Carlisle, will be closed for the foreseeable future, Cumbria County Council said.
No-one was hurt, but at least six properties were flooded and lost gas and electricity for a time.
Firefighters reported more than 3ft of water in some of the affected homes.
Another bridge near Great Corby primary school was also temporarily closed after the floods, but engineers have now reopened it following an inspection.
A county council spokesman said: "The bridge suffered a collapsed arch as flash floods along a tributary to the River Eden swept away part of the structure.
"Highways engineers have been on site carrying out assessments and have closed the road, with secure fencing being erected either side of the bridge this evening.
"Engineers will carry out a more detailed structural inspection of the 3.5m span bridge to fully assess the extent of the damage, but it is highly likely that the bridge will be closed for the foreseeable future as it has suffered significant damage and is structurally unsound.
"A gas mains pipe which runs through the bridge structure was also damaged, as was an electricity cable.
"Traffic to Great Corby from the A69 is now being diverted."
Carlisle's Labour MP John Stevenson, who lives in Great Corby, said: "This has been devastating for the people locally and I feel very sorry for those people who have been directly affected.
"It all happened in a matter of minutes. The beck filled up and flooded and the water hit properties before people had time to do anything."
Jay Bevington, who owns two of the properties affected said: "I have never in my life seen anything like this before.
"I never thought for a minute that this could happen so quickly."