Cumbria Police seize £500K of mephedrone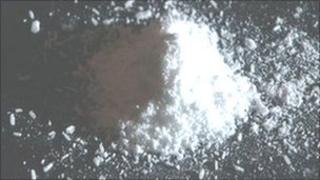 More than £500,000 worth of a recently-banned drug has been seized during a three-month operation in west Cumbria.
Police said they had recovered more than 30 kilos of mephedrone, known as meow meow, in 60 separate raids, including in Maryport and Workington.
A number of arrests have been made but police have not yet released details.
The class B drug was legal until just over a year ago. Det Insp Mark Backhouse of Cumbria Police warned the drug can be fatal.
He said: "People are attracted to mephedrone as it has similar effects to ecstasy or amphetamine but the effects can be unpredictable.
"Some people who have used the substance have been rushed to hospital with breathing difficulties, dizziness, nose bleeds, increased heart rates, depression, psychosis and diarrhoea.
"Others have experienced heart failure, fallen into a coma."